Are you ready to dive into an underwater photography adventure in San Salvador, Bahamas? It's time to take out your camera, put on your scuba gear, and prepare to photograph the ocean's brilliance. The crystal clear waters, thriving marine life, and incredible visibility make it a dream location for underwater photographers.Underwater photography requires specialized gear, including an underwater camera, strobes, and lenses. Make sure you are equipped and knowledgeable about your equipment before leaving for San Salvador. Just in case, don't forget to include extra batteries, memory cards, and backup equipment.
Focus on Composition
Once your equipment is organized, you should concentrate on composition. It's simple to get caught up in the moment when taking underwater photos and neglect to frame your shots. Before snapping away, take a moment to assess your surroundings and determine what you want to capture. Think about the subject's position, the background, and any potential distractions that may take away from the image's overall impact.
Is Your Lighting Sufficient?
Another important aspect of underwater photography is lighting. The ocean is a dynamic environment, and lighting conditions can change quickly. You must comprehend how light behaves underwater and know how to take advantage of it if you want to capture the perfect photo. Natural light is typically the finest illumination for underwater photography, although it can be difficult to capture the ideal shot under many circumstances. The waters around San Salvador Island are known for their clarity, but this can also make the lighting more challenging. Use the proper camera settings and lighting strategies to capture the most vibrant colors and details.
Another tip for capturing great underwater photos is to use a strobe or external flash. This can help to add more light to your subject and bring out its natural colors. When using a strobe, make sure to position it correctly to avoid creating harsh shadows or uneven lighting. It is also important to practice using your strobe before your dive to ensure that you are comfortable with its settings and placement.
Consider The Marine Life
When diving in San Salvador, it's crucial to be mindful of the marine life. It is your duty as an underwater photographer to respect the environment and all living things. Be sure to research the local marine life and learn about their behavior and habitat. Avoid touching or disturbing the animals, and never harass or chase after them for a photo.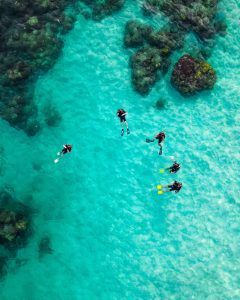 Get Educated
Consider enrolling in a photography course or workshop if you want to develop your underwater photography talents. Numerous dive shops and resorts provide classes that may teach you the fundamentals of underwater photography as well as more complicated methods. These courses may include classroom instruction, hands-on practice, and feedback from experienced photographers. Not only can this help you improve your skills, but it can also enhance your overall dive vacation experience by providing a fun and educational activity to enjoy between dives.
Charter the Bahamas with Riding Rock
San Salvador, Bahamas is a paradise for underwater photography enthusiasts. You can take breathtaking pictures that will take you back to the Bahamas' crystalline waters if you have the correct gear, composition, lighting, and attitude. The secret is to have fun, be respectful, and never stop learning whether you are an experienced underwater photographer or just getting started. So grab your gear, hit the water, and let your creativity soar on your next Bahamas dive vacation.
Contact us and book one of our dive vacation packages or one of our dream Bahamas deep sea fishing charters.