Riding Rock Resort
Riding Rock Resort & Marina is one of only two resorts located on the scenic San Salvador oceanfront. Built, owned and operated by the William's family since the 1960's, the resort is and always has been dedicated to the comfort and convenience of scuba divers, fishermen and water sports enthusiasts.
Riding Rock offers the very best Bahamas diving in a setting that's truly unique. We work hard to make your time out of the water as exciting as your time spent exploring our spectacular coral reefs and amazing walls.
Room Options
All of the rooms at the Riding Rock Resort are now Deluxe. We have 18 rooms in our two-story building, offering both oceanfront and poolside views. In addition, have 4 oceanfront rooms in our single-story building on site.
The rooms come with either one king bed or two queen beds. All of the Deluxe Ocean Front rooms have a spectacular view of the Atlantic Ocean.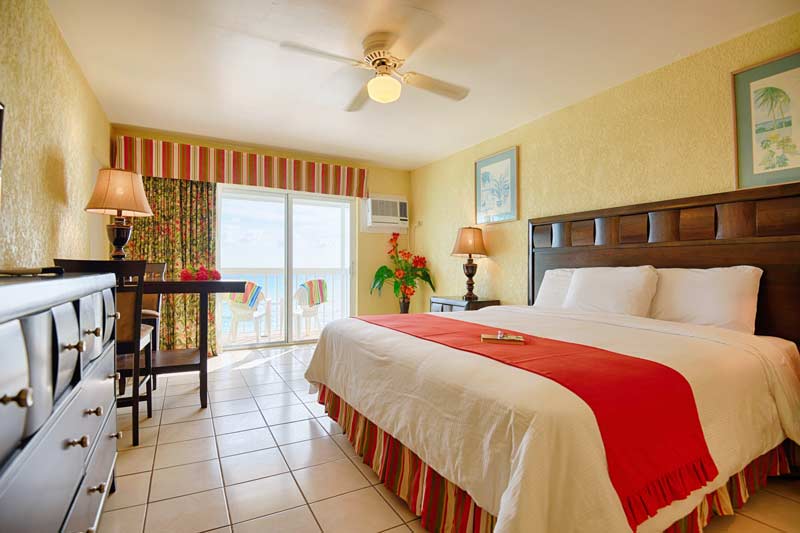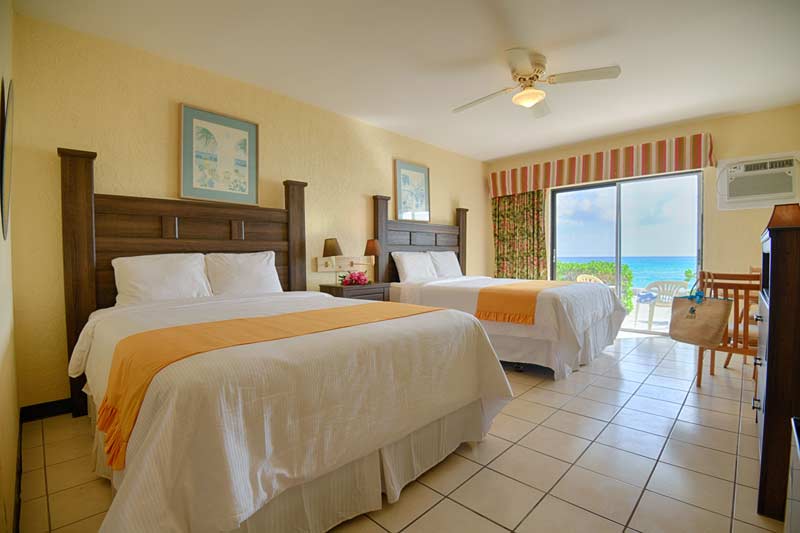 Amenities
All rooms are air-conditioned and offer cable TV, a mini-fridge, private bath, porch or balcony, outside drying hooks, tile floors, and daily housekeeping. For your convenience, beach towels can be found in your room to be used at the pool only. If there isn't a beach towel in your room, kindly speak to the front desk and one will gladly be provided. Beach towels for diving are provided on the boats.
The resort also features a freshwater swimming pool and access to a breathtaking white sand beach to the South of the rooms.
The Driftwood Bar
The Driftwood Bar opens at 4:00 pm and will close when the last customer staggers out down the steps! It's a great place to check emails or share your dive images utilizing our free Wi-Fi – which is also available in the restaurant. Beer, wine, sodas, and a wonderful variety of mixed drinks and blended island drinks are available from our expert local bartenders. Cable TV brings in sports games from home. The management sponsors two cocktail parties each week. Try the ring toss game or relax on the open-air patio overlooking a beautiful beach. Don't forget to leave some personal artwork behind to adorn the ceiling and walls.
Meals at Riding Rock Resort & Marina
Especially popular are our restaurant — specializing in American and Bahamian cuisine with an accent on fresh fish — and the Driftwood Lounge. Both provide a friendly, casual atmosphere for the food and drinks and a magnificent ocean view.
Breakfast is served from 7:30 am to 9:00 am. Fresh fruit, cereal, French toast, pancakes, bacon, and sausage are served to order or buffet style.
Lunch is served from 12:30 pm to 2:00 pm. Conch chowder and fresh Bahamian bread are served daily. Your choice of a meat or fish dish or a buffet-style meal is prepared. Cracked conch, grouper fingers, steamed conch, pizza, and baked chicken are some of the selections.
Dinner is served from 6:30 pm to 8:30 pm. A garden salad is served with each entree. Your choice of meat or fish dish is prepared or a buffet-style meal. Grilled dolphin, roast beef, steamed grouper, stuffed chicken breast, and steak are some of the selections.
All meals are included in our Island Escape Packages or can be purchased a la carte.
Front Desk
Our front desk is staffed from 8:00 am until 9:00 pm. Available at the front desk:
Safe Storage
Rental Cars
Arrangements for Island Tours
Flight Arrangements
Fishing Charters
All other general information