As one of two resorts on the unspoiled shores of San Salvador, Riding Rock Inn and Resort has beautiful views year-round. Right now is the perfect time to visit and take a relaxing Bahamas dive vacation, in addition to taking advantage of our awesome amenities.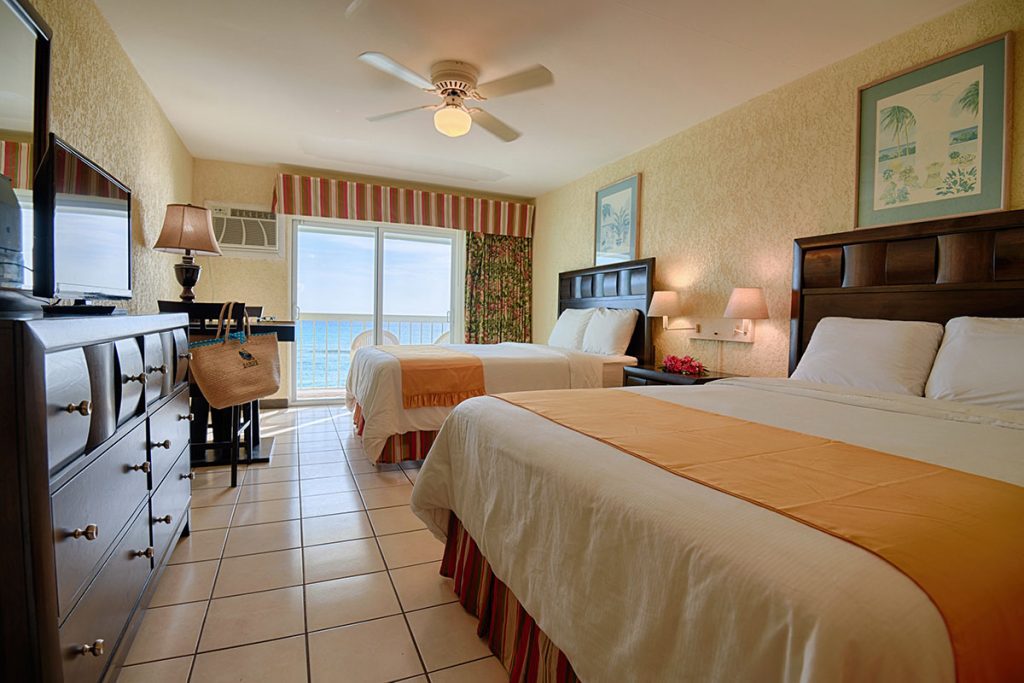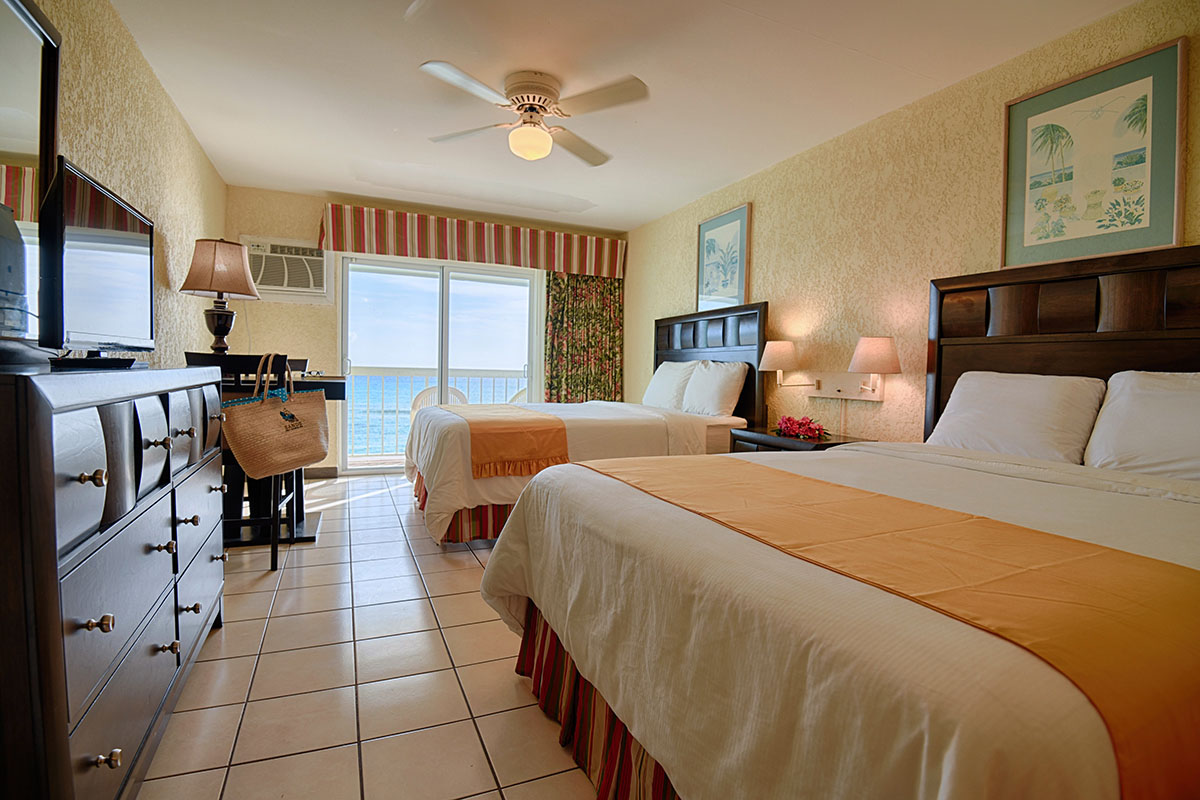 Our newly renovated rooms are all air conditioned, and offer cable TV, a private bath, mini fridge, porch or balcony, outside drying hooks, and daily housekeeping. There's access to a freshwater swimming pool and a breathtaking white sand beach near most of the rooms.
Thanks to our perfect location, plenty of people retire at the end of the day at Driftwood, from divers, boaters, visitors, and locals. They love being able to view breathtaking sunsets, mixing and mingling with others as they share adventurous stories of the day while sipping on their favorite cocktail or tropical drink and sampling conch fritters. One of our most notable locals, Peaches, has been a friendly and familiar face behind the Driftwood Bar and Lounge for decades at Riding Rock. She loves meeting all of our guests and serving them their favorite libations.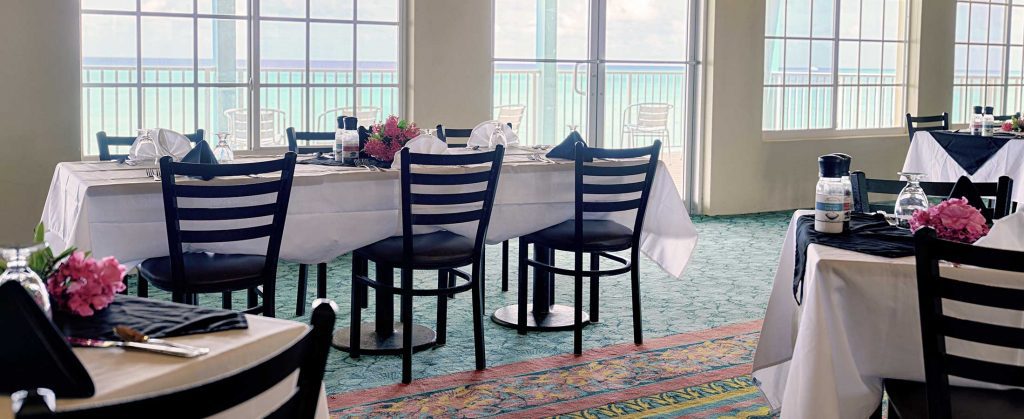 As for our restaurant, our chefs provide the perfect blend of American and Bahamian cuisine with an emphasis on fresh fish and meat. Some of the dinner choices on our San Salvador island resort include grilled dolphin, roast beef, steamed grouper, stuffed chicken breast, steak, and more. 
Our front desk is fully-staffed from morning to night. Plus, the friendly team of concierges can help with safes for storage, rental car or island tour arrangements, fishing charters, flight information, and any other general information. 
Whatever you may need, our friendly staff is there for you. 
Our staff is well versed in the area of San Salvador. We can suggest some of our favorite local spots to visit, or help you find fun activities to enjoy during your off time. 
The desk is staffed from 8:00 am to 9:00 pm each day, so feel free to ask them about anything you need!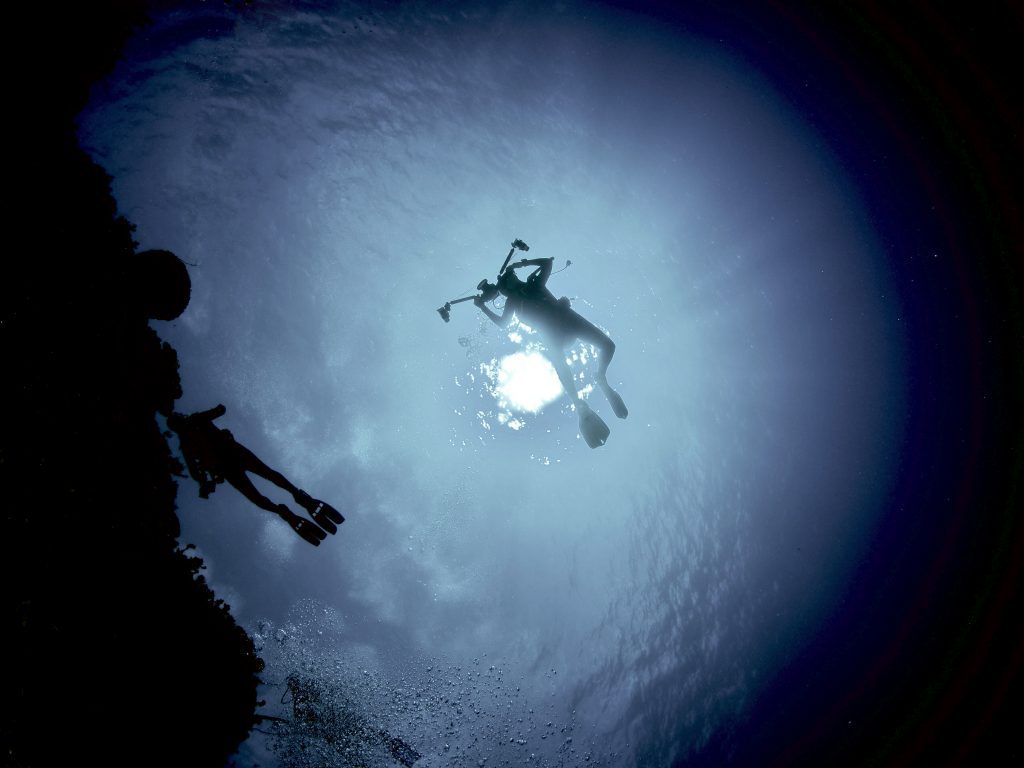 All About Fishing and Diving in the Bahamas
As an all-inclusive resort, our Bahamas dive vacation packages include two morning and one afternoon dive on the "full" dive days plus a one tank dive on the last dive day, with no dives scheduled on the day of your arrival or departure. We offer additional boat dives for $50 per dive with a minimum of six divers for day or night dives, and can be arranged once you are on-island. 
*(Please note that our packages do not include personal purchase items, alcoholic beverages, sodas, bottled water, gratuities or transportation to and from San Salvador.)*
There are more than thirty amazing dive sites located near our island resort, from diving walls to swim-throughs and caverns, featuring a wide variety of both large and small creatures to grab your attention. One of the most popular dives include exploring Shark Alley, which is for the bravest divers who are ready to swim alongside several shark species in the area.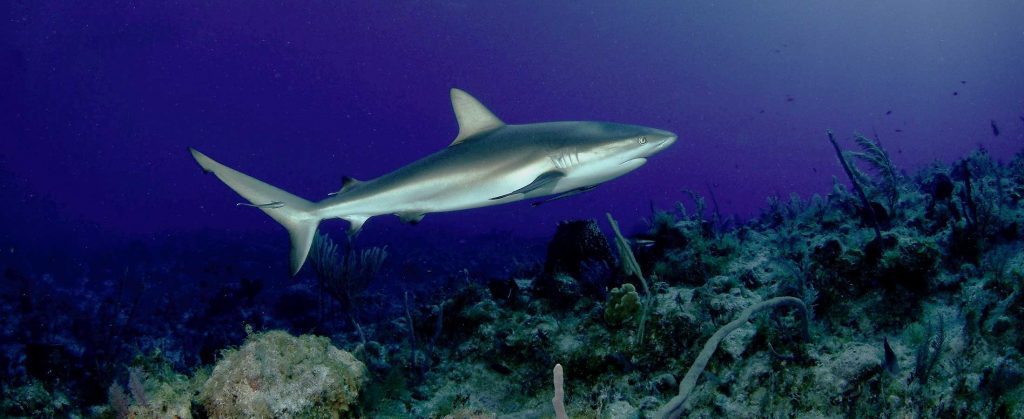 Other popular diving destinations include Riding Rock Wall, Shangri-La, Vicky's Reef, Hole in the Wall, and Double Caves, where all options are unique and fun for a Bahamas dive vacation!
If you're ready to try some of the best deep-sea fishing opportunities, then Riding Rock Resort is a fantastic place to start. The marine wilderness includes blue marlin, wahoo, kingfish, dolphins, and tuna just cruising in the deep blue waters surrounding the Riding Rock docks. With these trips we ask those fishing to practice catch and release as a way to preserve the natural beauty San Salvador island resorts have to offer. We provide tackle, bait, and water for full day charters on our 28' boat, Odyssey III. Our Bahamas deep sea fishing charters also offer food and drinks to anyone to complete the day!

Our quiet, friendly and unspoiled shores offer miles of deserted beaches and lush underwater reefs. Riding Rock is a charming resort located directly on the coastline while providing beautiful views coupled with once-in-a-lifetime experiences. 
The Marina on our resort provides luxurious amenities for anyone lucky to live aboard a vessel! We have plenty of electric hook up stations, showers, restrooms, water and laundry facilities and deep water dockage. Each of the twenty-five slips can accommodate a boat up to 170' in length, has diesel and gas fuel pumps, all on 50 or 30 amps of electricity. In the busy summer, we suggest boaters book a reservation ahead of time. Our location is prime for game fish like Mahi-Mahi and big wahoo.
Visit Riding Rock Resort For the
Bahamas Dive Vacation
of Your Dreams
Looking for a lively or laid back type of vacation? Either option is possible at Riding Rock Resort thanks to its location, affordable prices, all-inclusive vacation packages, and amazing guided dives.
See how we're able to exceed the expectations of all our Riding Rock Resort guests with each visit by booking a visit today!